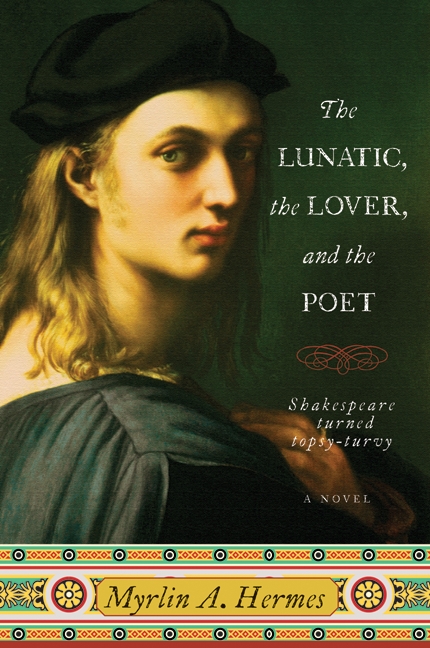 Horatio is a scholar, a poet, and a skeptic. His days are spent studying at Wittenberg University, until a chance encounter with the Prince of Denmark, whose beauty and wit pulls Horatio into a world completely alien to his own. Horatio's poems of the Prince's beauty attract the attention of his patroness, a manipulate baroness by the name of Lady Adriane. But when a rival poet by the name of "Will Shake-spear" begins to court both his mistress and his prince, Horatio stands to lose everything. He'll have to pick up his pen and fight, for his love and for his destiny.
Hamlet is probably one of my all-time favorite Shakespeare plays, so I knew I had to pick this one up, and I'm super glad I did. Myrlin Hermes weaves a world for Hamlet and Horatio outside of the Denmark court, before the death of King Hamlet and all the insanity that followed. The writing style was definitely the first thing that drew me in about this book. I was amazed at the beauty of prose. It's definitely at a level that the Bard would have been proud of. The book begins with Horatio accepting a "translating" job from a baron, where he meets her rather un-lovely wife Adriane. But the book really picks up once Horatio discovers Hamlet by the riverside. The scene in which Horatio and Hamlet first meet is one of my absolute, favorite parts of this book. The prose is vivid and paints a beautiful scene, but it's Hamlet who the reader falls in love with here. Hermes paints him as beautiful and dangerous, intelligent and insane. She captures Shakespeare's Hamlet so beautifully that I knew right from that moment that this book would end up being a favorite of mine.
The characters really give this book depth. Not only can Hermes capture the beauty and complexity of Shakespeare's characters, but she creates Lady Adriane, who's dark and sexy and fits in so well with Horatio and Hamlet that I'm surprised I can't dig her out of the original play itself. Life for Hamlet and Horatio wouldn't have been so difficult if not for Adriane, and in that sense the reader comes to love her and hate her. She's a character that you won't soon forget.
As it's set before the original play, I was expecting certain events to take place at a certain time, so this book would inevitably lead into the play. But I was surprised at the twists and turns that Hermes pulls. They're by no means loud and shocking, but quiet, so quiet that the reader could almost miss the crucial decisions that Horatio makes near the end that inevitably change his and Hamlet's destiny indefinitely. The end is every bit as beautiful as I'd hoped with enough variation from the original text that I never once skimmed or became annoyed with predictability.
If you're a fan of Hamlet, or Shakespeare in general, I highly recommend this book. It's everything you expect it to be and everything you don't. It's dark and sexy and I can't get enough of it.
5/5 Stars. An instant classic.