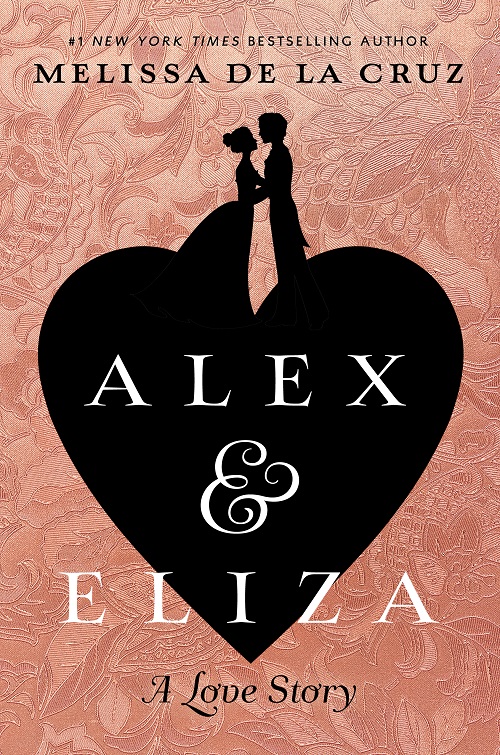 Book Review: Alex and Eliza by Melissa de la Cruz
Goodreads Description: As battle cries of the American Revolution echo in the distance, servants flutter about preparing for one of New York society's biggest events: the Schuylers' grand ball. Descended from two of the oldest and most distinguished bloodlines in New York, the Schuylers are proud to be one of their fledgling country's founding families, and even prouder still of their three daughters—Angelica, with her razor-sharp wit; Peggy, with her dazzling looks; and Eliza, whose beauty and charm rival that of both her sisters, though she'd rather be aiding the colonists' cause than dressing up for some silly ball.
Still, she can barely contain her excitement when she hears of the arrival of one Alexander Hamilton, a mysterious, rakish young colonel and General George Washington's right-hand man. Though Alex has arrived as the bearer of bad news for the Schuylers, he can't believe his luck—as an orphan, and a bastard one at that—to be in such esteemed company. And when Alex and Eliza meet that fateful night, so begins an epic love story that would forever change the course of American history.
My Review: I was given a copy of Alex and Eliza by MB Communications in exchange for an honest review.
Alex and Eliza is the timeless love story between Alexander Hamilton and Elizabeth Schuyler in the late 1700s America, as a fledgling country was just taking shape. The story begins with Eliza's mother throwing an extravagant ball in the hopes of finding suitors for her three daughters, Eliza, Angelica, and Peggy. It is there Alexander Hamilton stumbles into Eliza's life for the first time, and though it is not the most romantic of encounters, their feelings continue to bubble and grow as their paths cross over the years.
The revolutionary war serves as a backdrop to the love story, as both Alex and Eliza are passionate about the cause. Despite this, the story isn't at all about the war, and rarely did it encroach on what was going on with Eliza and Alex, except when duties would summon Alex away for a period of time. The focus is solely on the budding love between the two. As the book is set in an era of slow courtship, it takes time to establish the romance enough to get to those cutesy moments. In addition, the social expectations of the time, such as having to marry for money, added in realistic and frustrating roadblocks. A lot of the tension in this book comes from that anticipation of will-they-won't-they. Because of this, the beginning is a little lacking in tension and moves a bit slowly as there is a lot of information on the families and estates that needs explanation. The prologue comes across as a bit of an info-dump, but the explanations don't linger too long before the story moves into action.
The book definitely has that prince/princess/happily ever after vibe (or was that just me?) that tapped into my inner Disney princess. While Alex has a couple moments of being the hero and sweeping Eliza off her feet, Eliza is a strong and confident woman who is not waiting to be saved. For much of the beginning of the book, Eliza views Alex as a threat to her family and treats him sharply, all in the name of protecting her father. It's only after she comes to know the Colonel better does she begin to soften and let him in. I will add that as the book was inspired by the Hamilton musical and informed by history, there is no mention or reference to skin colour, allowing the reader to imagine the characters as either white or black depending on their preference.
Melissa de la Cruz never fails to tell an awesome story, and this is no exception. She definitely steps into her literary shoes for Alex and Eliza, using flowing prose and a flowery vocabulary to transport us back to days of powdered wigs and corseted ball gowns. The prose does slow down the pacing, but helps ground us in the time period as well as adding a layer of literary flavour to the book. Alex and Eliza is definitely a good pick for teens who enjoy romance and are still craving more after seeing the Hamilton musical.
TL;DR: All in all, 4/5 stars. A beautiful and tense romance set against the backdrop of America's revolutionary war.